The Six Nations: Which of the Home Nations will be stuck in a ruck or simply knock on?
The Six Nations initially began life as purely the Home Nations tournament, the first international rugby union tournament of its kind. Now, six of the world's great nations (England, Wales, Scotland, Ireland, France, and Italy) take part in this event.
But as much as we strive to hide it, our passions still lie with the battle between the four home nations, our competitive streaks getting the better of us. And with the first match tomorrow, with Wales vs England, it's no surprise that hunger and pride for a win are riding high. But what do the experts say? What can we expect to see from the home nations in 2015? Let's take a look at the stats and compare the odds.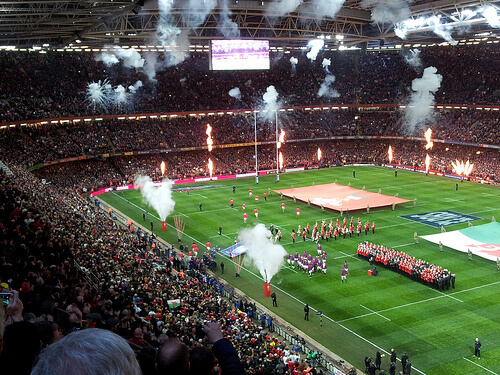 Via: Steve Watkins
England - 2/1
It may come as no surprise, especially with 12 Grand Slam Wins, that England have, once again, the odds in their favour. However, the England side is suffering from a few injuries, which means a few absences, but with some players, such as Dan Cole and Kieron Brookes, England are building on their strengths and taking no notice of the lack of certain team members.
Wales - 3/1
Will the Dragons have enough fire in their bellies to defeat the English? We're sure many of you are hoping they're certainly won't be smoke without fire. Wales look to offer sterling competition for the Red & Whites, hopefully making for exciting and high-scoring games. Some pundits have stated that this is the strongest they've ever seen the Welsh team, we're sure to see some aggressive tackles and fantastic passing. Power and force seems to be their best foot forward this year, with huge players such as Alun Wyn Jones and Jonathan Davies.
Scotland - 33/1
Although the odds for Scotland aren't the most promising, there should be a good battle between them and Ireland, with only one grand slam in it to push Scotland's confidence. However, we do love an underdog, so we'll see if their strength and passion is enough to keep them in the tournament.
Ireland - 7/4
With one of the best coaches (or claimed to be) in the Six Nations, it's no wonder that Ireland's chances of winning are on the up. With some strong players and amazing talent, we could see Ireland pull it out of the bag. Players to watch out for are Johnny Sexton, Kieran Marmion, and Robbie Henshaw.
"I make good money day in, day out on Betfair, thanks to Gruss."