A Guide to the Masters 2015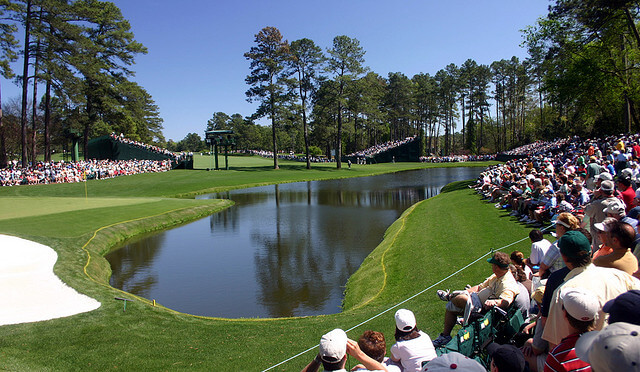 Spring has sprung. As carefree Britons flock to their gardens to bathe in the spring sunshine and get to work on the perfect golf swing. Yes, the Masters is nearly here and it's time for golf lovers worldwide to reserve the right to the TV remote for the foreseeable and prepare for an unforgettable round (get it?) of must-see TV. So, cancel your weekend plans, pull up your recliner – golf is the only entertainment you'll need.


Here's everything you need to know about Augusta 2015:
As always, the Augusta Masters is one of the most highly anticipated events in the golf calendar. This is where careers are built up and broken and games that will go down in golfing legend are played. This year, the competition is tough, so defending that green jacket is no easy feat - we're looking at you, Bubba Watson. Plus, winning a back-to-back Masters is incredibly difficult. There hasn't been a repeat winner since the nortorious Tiger Woods in 2001 and 2002.
But, is Tiger Woods ready for the Masters?
As you might of heard, Tiger Woods is back at the Masters. The former number one champion has been working on his game since last years tournament where he struggled with form and an injury, causing him to withdraw from the Farmers Insurance Open. In fact, in the last five events Woods had two withdrawals and one devestating 17th place finish. As always, we'll have our eyes set on Woods as he fights to get his career firmly back on track.
Will Jordan Spieth continue to impress?
This 21-year-old star player is shining bright at the moment with his second PGA Tour victory last month and two international wins at the start of the season. Last year we saw his quality performance going into the finals of Augusta with the more experienced Bubba Watson clinching a late rise to victory. However, this year Spieth will be more prepared for the pressure of being a young favourite and should be comfortable with attention on the big day.
Bubba Watson: the new repeat winner?
Watson has already won the masters twice – but could he make it a two year victory with another win this week? With the length of his tee this champion is likely to be a contender at any future tournament. He didn't handle his defeat well back in 2013, but this year he's said to be ready for the competition. Putting aside his bruised ego, Watson prepares for another victory and a chance to make history. He knows that winning the Masters for a third time puts him alongside golfing legends, such as Jimmy Demaret, Sam Snead, Gary Player, Phil Mickelson and Faldo.
Not forgetting this guy…
Rory Mcllory is the favourite as we enter this year's tournament. The spotlight has never been brighter on the worlds No1 ranked golfer. He's won two majors and has performed solidly this season, winning the Omega Dubai Desert in Asia. Fortunately for this champion, there's a little less attention going into the tournament than expected because of Tiger Woods' late appearance. This has given Mcllory the chance to find some quiet time before the games in order to get his mind focused on the challenges ahead.
"I make good money day in, day out on Betfair, thanks to Gruss."