British Grand Prix 2015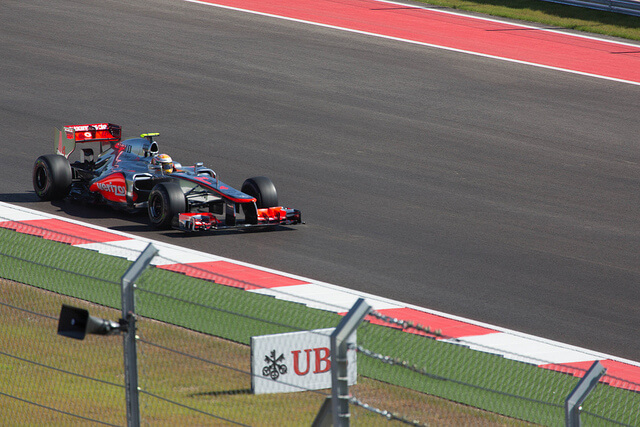 A key date in the F1 calendar is almost upon us, as this weekend we prepare ourselves for the British Grand Prix at Silverstone. Ten points separate the two Mercedes drivers, who are fiercely locked in a battle for pole position. A win for Hamilton would solidify his lead; a win for Rosberg could turn the tide of the 2015 championship.
The 52 lap circuit will once again welcome competing drivers to take on its classic twists and turns, from the difficult right turn of the Copse to the 130mph chicane of Maggotts, Becketts and Chapel. The now-retired Mark Webber holds the record for fastest lap, at 1.33.401, that he set back in 2013. Hamilton will be aiming to beat the Aussieís record if he wants to repeat his win last year, but even then he was 4 seconds off Webberís pace at 1.37.176.
Mercedes
The gap between the two Mercedes drivers was much larger last year, to the extent that Rosberg didnít finish the race and Hamilton won in front of his home crowd. After his 2014 championship win, Hamilton has started this season on amazing form, but a run of bad luck and technical issues have marred his 2015 success. In Spain he got stuck behind old nemesis Vettel, in Monaco he pitted at the wrong point due to a strategic error and in Austria the he blamed his 2nd place on a faulty clutch. Hamilton will now look to come back from these shortcomings that have cost him valuable points. However, the one man who will pounce on any mistake he makes will be teammate Rosberg, who will be looking to record a fourth win of the season.
Ferrari
Sebastian Vettel has recorded one win and four other podium positions this season, which means he is the closest competitor to challenge the dominant Mercedes duo. He has only won once at Silverstone back in 2009 as part of his highly successful Red Bull career, but in his first season as a Ferrari driver he might not have the same impact. However, this does not stop him capitalising on the fierce rivalry of Hamilton and Rosberg. Kimi Raikkonnen managed to slip past Rosberg to claim second place in Bahrain, but hasnít had much more impact than that. He will equally be attempting to challenge the almost impenetrable Mercedes barrier.
Williams
Valtteri Bottas managed a third place podium finish in Canada, vying to compete for the relatively open spot left behind Mercedes. His teammate Massa managed the same feat in Austria, confirming that Williams can also compete against Ferrari. At Silverstone they will be keen to gain more ground on Hamilton and Rosberg, potentially upsetting either driverís hopes for a win.
"An excellent product with outstanding support."