Champions League Final 2015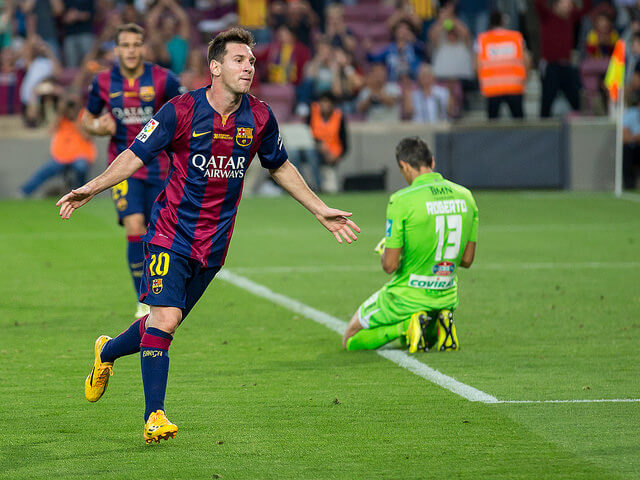 Two teams, two stories of outstanding success. Taking place at the Olympiastadion in Berlin, the 2015 Champions League Final unites Juventus and Barcelona, two ferociously successful teams vying for a continued taste of glory.
Juventus
Juventus weren't favourites to progress to the final, given that their semi-final opponents were the mighty Real Madrid, but against the odds they did it anyway. The man that put an end to thoughts of an El Clasico final was ex-Real Madrid player, Alvaro Morata, who stifled a celebration in the face of knocking his old club out of the contest.
After 12 years without a Champions League Final appearance, Juventus are back in action. Praise has gone to new manager Massimiliano Allegri for rousing his team into their best form in over a decade. After only a single season in charge he has driven Juventus to claim a domestic double, by coming top of Serie A and claiming the Coppa Italia 2015. They have only one more hurdle to make it a treble.
Gianluigi Buffon is the only member of the squad who remains since their last final, where Andrea Pirlo, who now also plays for Juventus, was on the opposite side (AC Milan). Juventus have won twice before – in the 84/85 and 95/96 seasons, but with a very different team than the one that plays today.
Other vital additions to the team include Carlos Tevez and Patrice Evra, who both claimed the Champions League title with Manchester United back in 2008, Alvaro Morata, who might be lifting the trophy twice in successive seasons with different teams, and legend Andrea Pirlo, who may be playing his last game for Juventus.
Barcelona
Coming off the back of a well-fought 5-3 aggregate victory against Bayern Munich, Barcelona have looked unstoppable throughout the competition, especially with playmaking triumvirate Lionel Messi, Luis Suarez and Neymar, all looking incredible as ever.
Barcelona have the better and more recent record of success in the Champions League, as they have won the trophy 4 times – in 91/92, 05/06, 08/09, and 10/11, with the most recent two being wins against Manchester United. Like Juventus, they have garnered similar success by winning in their domestic La Liga and Copa Del Rey. Manager Luis Enrique, who has also only been in charge for a single season and was a former midfielder at Barcelona, may cap off his first season in charge by turning a victory in Berlin into an emphatic treble.
In terms of players, Barcelona have a team sheet to drool over. Lionel Messi, who has been integral to Barcelona's route through to the final, could find himself as the first ever player to score in three Champions League Finals.
Xavi will be playing his last game for a side he has spent 17 years at, wanting to finish his Barcelona career with a treble. Despite making an incredible impact in his first season for the Spanish giants, Luis Suarez will face his illustrious past. Suarez was due to face Giorgio Chiellini, who he famously bit during the World Cup last June, although the Italian is set to miss the tie through injury. The Uruguayan will still have to face up to Patrice Evra, who he was accused of racially abusing back in 2011. Neymar should also make an appearance, who, combined with team mates Messi and Suarez, has scored a phenomenal 114 goals for Barcelona this year. They will be looking to increase this tally in Berlin.
The Final
Both teams have been crowned champions of their respective leagues, as well as emerging victorious for individual cup competitions, meaning that a win in Berlin would make either side Treble winners in 2015. Similarities run further between the teams, given that managers Luis Enrique (Barcelona) and Massimilliano Allegri (Juventus) have both only been in charge for a single season.
But that's where the similarities end. Barcelona have won the Champions League twice in the last six years. Juventus haven't made the final in twelve years. Whether history will play a part in deciding the victor will only become apparent on the pitch. One thing is for certain – we're in for quite a game.
Favourites Barcelona are 6/10 to win the game in 90 minutes with
Betfair
.
Image Via: L.F.Salas
"I wouldn't hesitate to recommend this software to anyone."