Grand National 2016 Odds & Preview
This year will see the latest ever start time for a Grand National in itís history. Normally the race would be pencilled in for 4.10pm but in 2016 it has been pushed back to 5.15pm for the sake of viewing figures. However, not everything goes exactly to the clock as 40 horses are assembled and set off down a 4 and a half mile course, so donít expect the race to start on time.
The good news? You have more time to read up on the runners and odds using Gruss Software. See, every cloud has a silver lining. Speaking of which, Many Clouds is pipped to repeat his success last year by winning in 2016. Read our Grand National 2016 preview below and start placing those bets!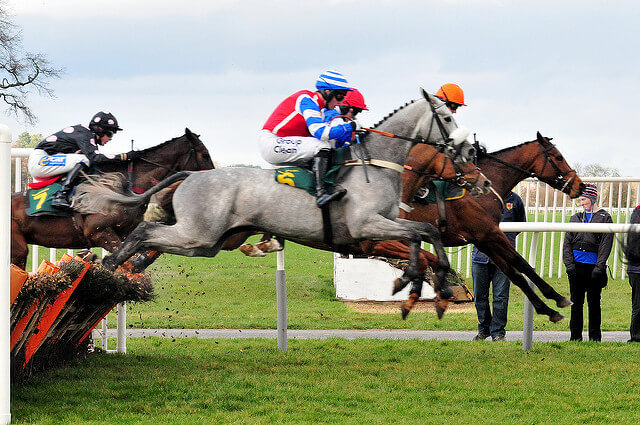 Image from
Flickr
Favourites to Win
The 40 runners have now been confirmed, pending any dropouts which would mean a reserve would be entered instead. But the following horses, who are all considered to be frontrunners to win, are all pretty much guaranteed to be racing, all with a chance of winning the biggest race of the year.
Many Clouds (8/1)
Trainer: Oliver Sherwood
Jockey: Leighton Aspell
After victory last year at Aintree, Many Clouds is undoubtedly the favourite to win again in 2016. Another win would mean that he would be the first horse since Red Rum in the 1970ís to win back to back Grand Nationals.
The Last Samuri (12/1)
Trainer: Kim Bailey
Jockey: David Bass
In good form after a win at Doncaster, The Last Samuri is a hot contender to win, if not place well at this yearís National. Jockey David Bass also found success on the same horse in December at Kempton Park, so will be looking to continue his run on saturday.
Saint Are (16/1)
Trainer: Tom George
Jockey: Paddy Brennan
Saint Are came second in 2015ís Grand National, running a respectable race, the question is can he go one better this year and win? Considering he recently won at Doncaster means he might be in good enough form to do just that.
Holywell (16/1)
Trainer: Jonjo OíNeill
Jockey: Richie McLernon
A second place finish at Cheltenham means Holywell is really showing strength in 2016 and has been tipped to take the next step and win at Aintree on Saturday. Itíll be a tough one, but someoneís got to win it.
Outsiders
They might not be the bookies favourite but they still have an outside chance of winning, especially when it comes to the Grand National, where anything can happen over two and a quarter miles. The following horses are the ones to watch.
The Druids Nephew (16/1)
Trainer: Neil Mulholland
Jockey: Denis OíRegan
The fact is that Druids Nephew has been trained just for the Grand National, so it was unfortunate when he fell four fences from home last year. This time around, if he stays on his feet he might be in with a chance of clinching victory.

Triolo DíAlene (33/1)
Trainer: Nickey Henderson
Jockey: Jerry McGrath
Despite suffering with a few injuries in his career he has still managed to win at Hennessy and Topham, showing a good track record of victory. Despite being an outsideer, he still might be in with a chance if he gets to show his true character.
Sources:
http://www.telegraph.co.uk/racing/2016/04/07/grand-national-2016-full-horses-list-and-runners-guide/
http://www.bbc.co.uk/sport/horse-racing/35987334
http://www.mirror.co.uk/sport/horse-racing/grand-national-2016-runners-full-7699822
http://www.grand-national2016.co.uk/runners-odds/
"A joy to use and easily customised to my own requirements."