Tour de France 2015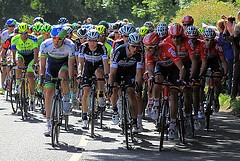 Once again the world's biggest cycle race graces our screens with competitors gearing up to tackle long-distance routes through rural France.
It's certainly no exaggeration to declare this year could be the most competitive Tour de France races to date. The 2015 instalment of the classic will see no less than seven mountain stages and five summit finishes on a 3,360km route, making it a race for the climbers and giving the French favourites a chance of winning the legendary yellow jersey.
The ones to watch
This year promises to meet all expectations, and then some. With defending champion Vincenzo Nibali (Italy) in prime form to steal victory again. A year ago he was the third man behind the two outright favourites, Chris Froome (Sky) and two time winner Alberto Contador (Tinkoff – Saxo) but this time around he starts with a far greater reputation. Even before the others crashed out, a fearless, ferocious Nibali stamped his authority on the Grand Boucle and set the standard for those to come. The question marks remain as to whether or not he can match his competitors in the tough mountain stages. But more than the others, he has the proven ability to turn things around before crossing the finishing line.
Showing true form in the run up to the Tour de France, Chris Froome landed the second victory of his career in the Criterium du Dauphine in a race too close for comfort with just 10 seconds between riders. "I think the team are ready for the Tour de France," he said, "and I'm just about ready." Froome won both mountain stages and, better still, his team impressed greatly. This triumph positioned him firmly in the hot seat in the run up to the Tour de France, with rival Vincenzo Nibali trailing not so far behind.
Based on form Alberto Contador is the third favourite, but with his second Grand Tour in two months will this prove too much for the 32-year old? He won the Giro d'Italia at the end of May and retuned for his second victory at Route du Sud in mid-June. The mountainous tracks may suit Contadors tough exterior, more so than his competitors, but recovery is key if this rider hopes to come out on top.
Young rider Nairo Quintana was unbeatable on all fronts when it came to the 2012 Criterium de Dauphine. Fast forward three years and this Columbian cyclist is tipped for the one to beat some of the bigger competitors in the Sky team. But this time the stage is bigger and the competition is fiercer than ever. Quintana has taken to the steep mountain road from his childhood home to his old school as practice for the races, just as he did before winning the Giro last year, but will this be enough to secure a Tour de France victory?
Key stages
Stage four between Seraing and Cambrai involves cobblestones. This rough ride may put some riders at a disadvantage as they struggle against the elements. Anything could happen on this tricky terrain, but keep an eye out for Nibali who is a strong contender. Stage 10 between Tarbes and La Pierre-Saint-Martin presents riders with a new finish. It is also the first of many high mountain climbs that will separate the weaker from those with potential to battle through. The final stage between Modane Valfrejus and Alpe d'Huez will be a great watch, as it requires full concentration for riders taking on the unpredictable nature of its uphill mountain climb.
"I make good money day in, day out on Betfair, thanks to Gruss."